Originally appeared in the May 2004 LAAS Bulletin (PDF file).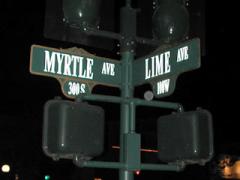 Our favorite corner in Monrovia, Myrtle and Lime, in front of Library Park.
Just five months ago, Jane and I never imagined we would leave our beautiful hillside home in Marin County just north of San Francisco. We were surrounded by luscious scenery, friends and family, and a lot of personal history. We were familiar faces on the sidewalks of San Francisco's Sunset district and Noe Valley with our big dobs and our personal style of "urban guerilla astronomy." With both of us out of a job, Jane as a financial project manager and Mojo as a software engineer, things were ripe for a change.
When JPL called in October to offer Jane a position doing public outreach for the Cassini mission, we were ready to pack the telescopes and head south. We lived in a hotel room with our two cats for two months, and kept the telescope collection out of the moving van and in a storage locker instead. Now where were we going to live?
We still loved doing public astronomy - our bit of performance art on the sidewalks of San Francisco and San Rafael. We met at the Fremont Peak Observatory in San Juan Bautista doing public astronomy; I was running the 30-inch telescope and Jane was giving views through her 12.5-inch Litebox newtonian. Now that we were transplanted to automobile-happy LA county, what was a die-hard sidewalk astronomer to do?
While touring homes for sale and potential new home towns, Monrovia stood out. We loved the small-town friendliness and the charm of Myrtle Avenue.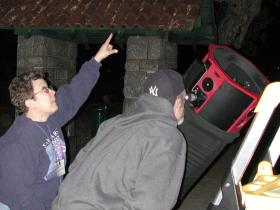 Jane shows the planets in her 12.5-inch dobsonian. (Click for 1024x768 picture.)
Myrtle Avenue turned out to be more of a treasure than we'd imagined. Monrovia has a lovely little library park right in the midst of the Monrovia night life, at Myrtle and Lime. The corner has an unobstructed view of the ecliptic, plenty of room for two big telescopes, and lots of pedestrian traffic on Saturday evenings. There's even a sheltered water fountain where we can take frequent sips.
Right there next to the memorial for William Monroe, and the park bench with a bronze Samuel Clemens, we found a new home and hundreds of new friends. Our first visit to Myrtle and Lime we had over 150 visitors get looks at the Moon, Venus, Saturn, and Jupiter. Our second visit we had over 200, including neighbors, tourists, teachers, kids, and police officers; all happy to be accidental astronomers for a few minutes. We've added Old Town Pasadena to our sidewalk repertoire, and easily had 300 visitors on Colorado Blvd. on one clear night.
We've discovered the excellent seeing to be had here with a gentle offshore flow. The planetary views can be stunning in our 180mm refractor. We still love to get out from under the light dome and go deep. Just for fun this March we spent a mid-week night in the desert east of Palm Springs with Don Machholz for a Messier Marathon and potential 9-planet night. We each bagged 108 M's and all nine planets. (Uranus in the morning twilight was a bigger challenge than Pluto!)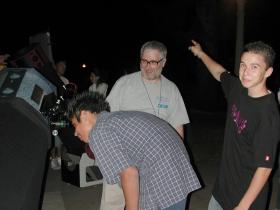 Mojo shows Saturn in his 14.5-inch dobsonian. (Click for 1024x768 picture.)
Together Jane and I are maintaining our ties with Northern California astronomy. We're participating on the planning committee for AstroCon 2004, being held in Berkeley this summer. This year's event is a combined conference for the Astronomical League, the Association of Lunar and Planetary Observers (ALPO), the American Association of Variable Star Observers (AAVSO), and the Astronomical Society of the Pacific. We're expecting a fine collection of speakers and vendors, along with some excellent excursions to Lick Observatory and Chabot Space & Science Center.
We also plan to join our old friends for some weekends in Yosemite National Park for astronomy at Glacier Point - an excellent combination of public and personal astronomy.
But Monrovia is definitely home. Home is where the sidewalk is.
---
Morris "Mojo" Jones and his wife Jane Houston Jones (jane@whiteoaks.com) are winners of numerous awards from astronomy associations, but their favorite has to be minor planet 22338 Janemojo, discovered and named in their honor by Carolyn Shoemaker and David Levy. Their home web site is http://www.whiteoaks.com.